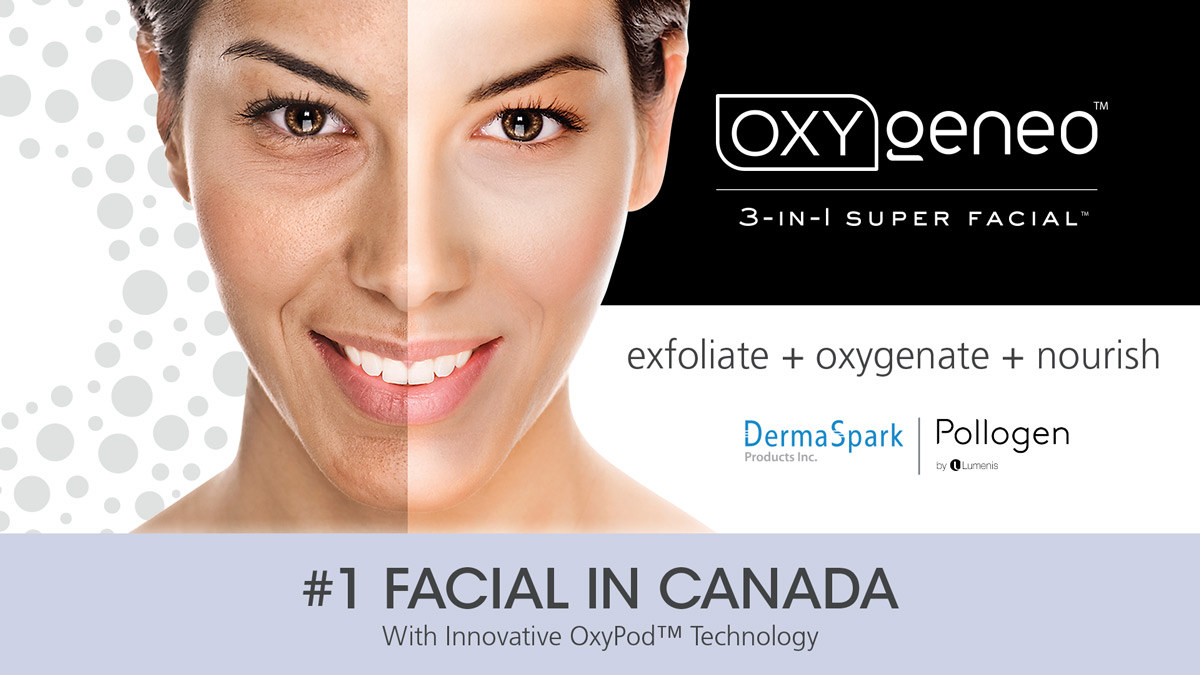 Every day, hundreds of OxyGeneo™ treatments are performed all across Canada.
Patented OxyGeneo™ technology harnesses the power of oxygen for both the face and body, providing unparalleled skin nourishment & oxygenation.
We invite you to take part in the groundbreaking OxyGeneo™ experience.
.
WELCOME TO THE AUTHENTIC OXYGENEO® 3-IN-1 SUPER FACIAL!
Please note that DermaSpark® is the Canadian exclusive representative of Pollogen® by Lumenis® the exclusive manufacturer of the authentic OxyGeneo® 3-in-1 super facial®.
Be aware of online scammers that try to sell fake, illegal and unlicensed devices that are hazardous and dangerous for human skin!
ONLY DERMASPARK® IS AUTHORIZED TO SELL THE OXYGENEO® IN CANADA!
THE OXYGENEOTM DIFFERENCE
The OxyGeneoTM has earned the reputation as the #1 Facial Treatment in Canada for one simple reason… it works!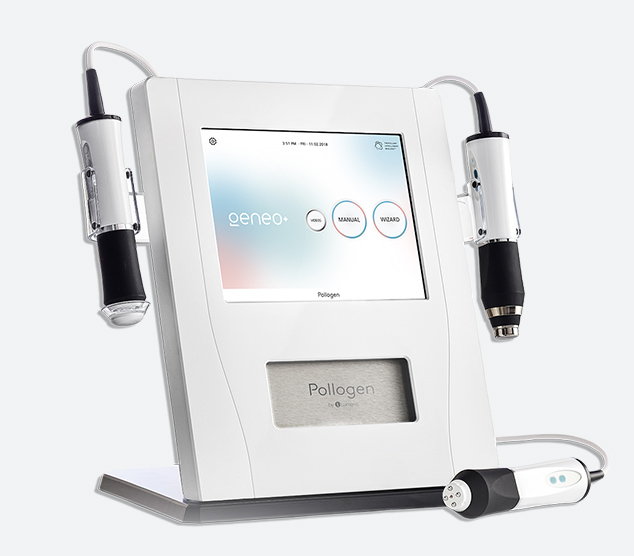 Immediate and significant results, visible after 1st treatment
Soothing and relaxing
Natural skin oxygenation from within by Bohr effect
Infusion of natural & powerful active ingredients to the skin
Long term skin texture and appearance improvement
Supported by real science and medical studies
Suitable for all skin types
Treatments for face & body
Never tested on animals
Vegan ingredients
No downtime
THE SCIENCE BEHIND OXYGENEOTM
Exfoliate, Oxygenate & Nourish Your Way to Youthful Skin
OXYGENEO™ HARNESSES THE BOHR EFFECT TO OXYGENATE
THE SKIN FROM WITHIN THE BODY!
Our breakthrough technology provides superior anti-aging results by treating the skin at a deeper level. Exfoliate, Oxygenate, and Nourish your way to youthful skin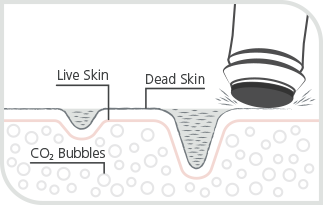 EXFOLIATE
The OxyGeneo™ exfoliates the upper skin layer to remove dead cells, open clogged pores, smooth the surface and renew the skin. The treatment generates an abundance of CO2 bubbles that permeate the upper skin layer to trigger a physiological response known as the Bohr Effect.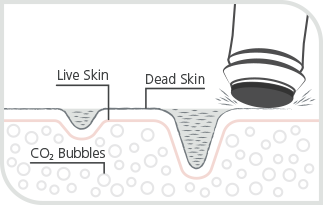 OXYGENATE
OxyGeneo™ harnesses the natural processes of the body to oxygenate the skin from within with the Bohr Effect! During the Bohr Effect, the body sends O2-rich blood to the skin to replace the CO2. This results in optimal skin oxygenation and increased cellular activity.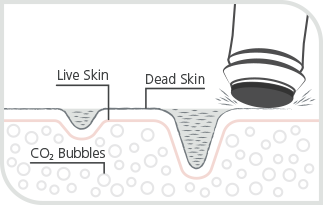 NOURISH
At the same time, OxyGeneo™ nourishes the skin with nutrients, vitamins and other active ingredients which keep it healthy and glowing for the long term
OPTIONAL APPLICATORS
Add two interchangable applicators for optimal results!
TRI-POLLAR RF
Combine your OxyGeneo with a relaxing Tri-Pollar RF treatment to stimulate collagen production for firmer-looking skin. Results are both immediate and long-term.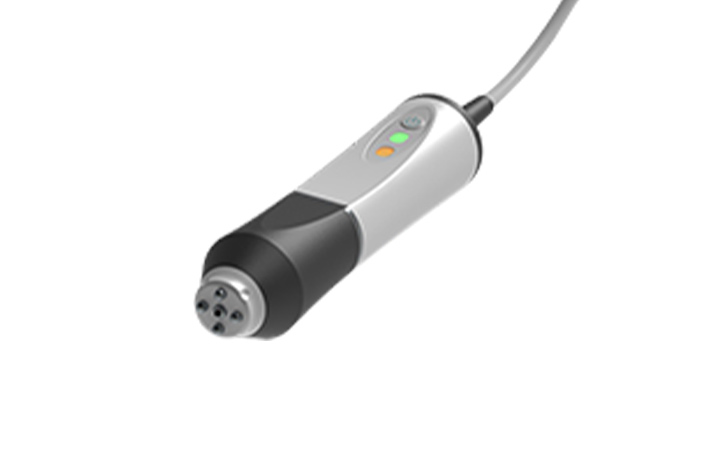 TRIPOLLAR (TM) RF SKIN TIGHTENING
TriPollar® is a 3rd generation, non-invasive radio-frequency (RF) technology that provides your clients with a safe, relaxing and effective treatment for skin tightening & wrinkle reduction, with zero downtime and long-lasting results.
HOW IT WORKS
TriPollar® safely delivers focused RF energy to the deeper dermal layer, in order to stimulate dormant fibroblast cells and increase delivery of oxygen and nutrients. The activated cells respond by generating new collagen and elastin fibres, as well as hyaluronic acid. This results in visible skin tightening and lifting, reduced wrinkles and rejuvenated appearance.
THE TRIPOLLAR® PREPARATION GEL
Glycerin-based gel, uniquely formulated to prepare the skin for the transfer of TriPollar® energy and is used for maximum effectiveness and best results.

Celltense™ Serum
                                                                             (Use alone or with radiofrequency RF treatments)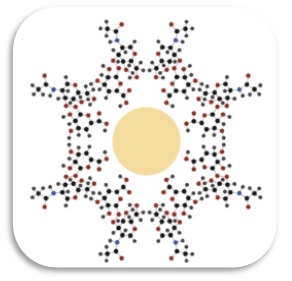 Non-invasive adjuvant serum for aesthetic Body care treatments to improve skin firmness and the appearance of Cellulite revealing younger, healthier-looking skin.
Ingredients 
Gold Thioethyle Amino Hyaluronic Acid [NANO]
Currently Gold Coated with between 200 and 500 oligomers . Hyaluronic is Coated through a Sulfur bridges.
Hyaluronic acid-coated gold nanoparticles have the unique ability to activate the CD44 cell receptor beneath the dermal layer, whose mission
is to regulate the endogenous production of hyaluronic acid and collagen. At the same time, gold nanoparticles
absorb the electromagnetic radiation and use the absorbed energy to increase their temperature, boosting their efficacy. Applied on the skin prior to radiofrequency, coated nanoparticles speed up the production of collagen.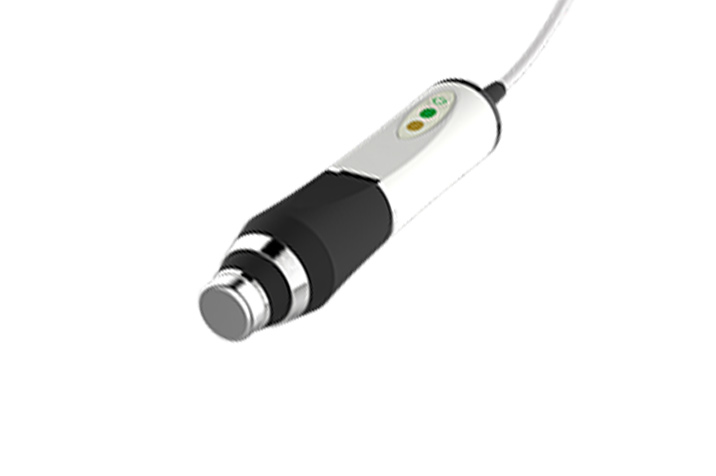 ULTRASOUND INFUSION
Low-intensity ultrasound waves significantly increase the infusion of therapeutic ingredients through the skin, resulting in optimal skin nourishment and cellular activity. The ultrasound also increases blood circulation that brings more oxygen and nutrients to the skin, improves moisture retention, tightens enlarged pores, and relieves puffiness around the eyes. The treatment is painless, soothing, and safe for all skin types.
The one-eight-y Facial 150
Using patented technology of the OxyGeneo® system the skin is deeply exfoliated, oxygenated and infused with active ingredients and nutrients! Giving the skin a complete turn around! No down time need just beautiful glowing looking skin! This treatment can also be performed on areas such as the neck, chest, and back. Prices will vary.
The Next level Facial 180 
Regular 200
Enjoy all the benefits of our one-eight-y OxyGeneo® plus the additional upgrade of the Ultrasound treatment. This special hand piece boosts the effectiveness of the OxyGeneo® treatment while also tightening pores and decreasing puffiness. This treatment can also be performed on areas such as the neck, chest, and back. Prices will vary.
RF facial pricing
-Full Face RF facial 125
-RF Eye lift or Neck or Décolleté (chest) 75
-RF Full Face and Neck 150
-RF Full Face with Neck and Décolleté 180
*Any RF facial areas may be added to the Oxygeneo facial at a discounted rate.
All in Facial 225
Regular 300
This treatment is the epitome of luxury. It includes everything from our One-eight-y and The next level OxyGeneo® treatments but with the addition of our relaxing Tri-Pollar Radiofrequency Eye Lift using our CelltenseTM serum. The adjuvant CelltenseTM serum is clinically proven to boost and accelerate the effects of the Radiofrequency (RF) body and facial tightening treatments, making them 18 times more effective. You will see instant brow lifting and plumping results. Perfect to prepare for a big night out. Results are instant and long lasting. 
NEW Glam Gold Facial 250
Regular 350
Experience the 3-in-1 super facial professionals are calling better than microderm. Incorporating patented OxyGeneo™ Technology for unparalleled skin nourishment & oxygenation, see younger looking skin after your first treatment. The New Glam gold facial provides immediate long lasting results with active ingredients like silk amino acids, silver and copper complex and pure 24K gold particles to stimulate synthesis of collagen and elastin. With anti inflammatory and antioxidant complex and a mega dose of Hyaluronic acid you'll see an immediate glow and ultra hydrating action! To top this Glam facial off you'll also receive a radio frequency eye lift and ultrasound infusion.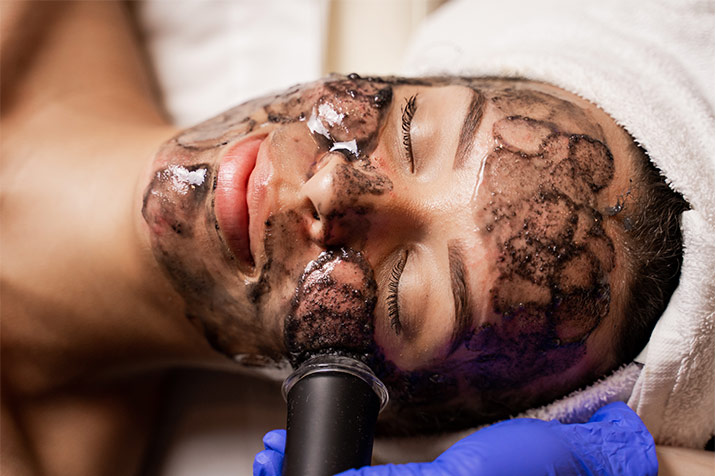 Experience
Canada's #1 Facial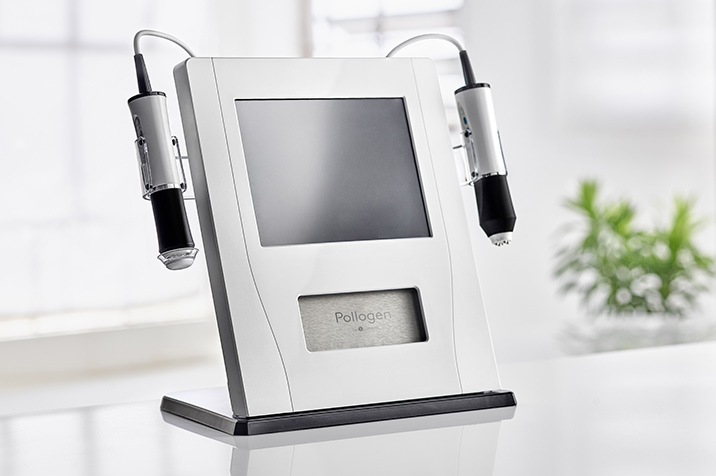 Book your OxyGeneo™ Session
OXYGENEOTM TREATMENTS
OxyGeneo™ offers five exclusive treatments to address all your clients' needs.
DETOX
GREEN TEA FACIAL
For Sensitive Skin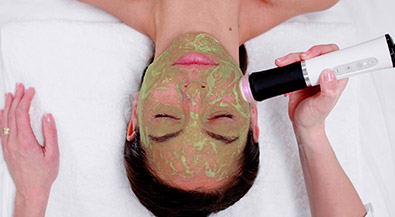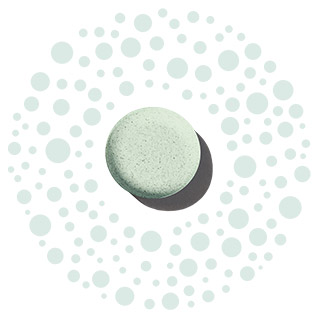 BENEFITS
Removes toxins and impurities from the skin
Alleviates irritation and redness
Helps to prevent oxidative stress and premature skin aging
Oxygenation by Bohr effect
Infusion of active ingredients
OxyPodTM technology inside
Reviving serum infusion
HYDRATE
SKIN HYDRATION
With Blue Spirulina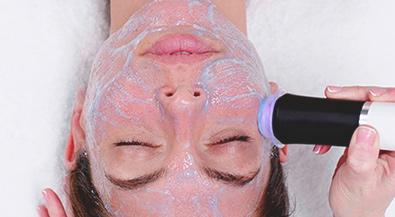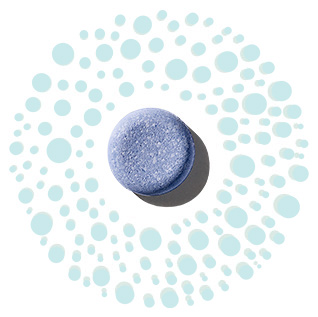 BENEFITS
Repairs the skin barrier
Intensively rehydrates dry skin
Reduces redness and irritation
Oxygenation by Bohr effect
Infusion of active ingredients
OxyPodTM technology inside
Reviving serum infusion
ILLUMINATE
SKIN BRIGHTENING
With Vitamin C & Kojic Acid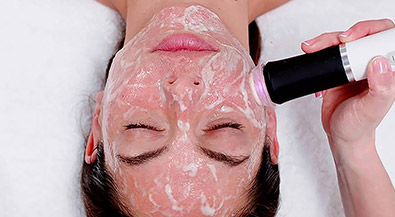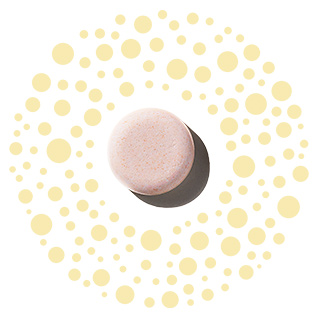 BENEFITS
Brightens and evens skin tone
Reduces signs of pigmentation
Protects from sun damage
Oxygenation by Bohr effect
Infusion of active ingredients
OxyPodTM technology inside
Illuminating serum infusion
BALANCE
SKIN PURIFYING
With activated Bamboo Charcoa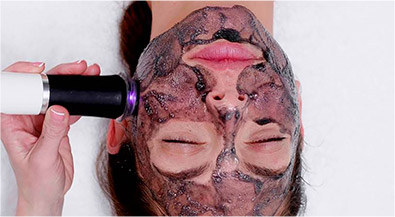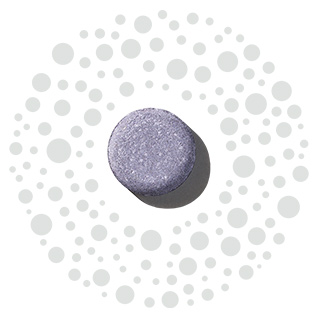 BENEFITS
Mattifies oily skin
Purifies clogged Pores
Clears toxins & bacteria
Oxygenation by Bohr effect
Infusion of active ingredients
OxyPodTM technology inside
Balancing serum infusion
REVIVE
SKIN REJUVINATION
With Red Algae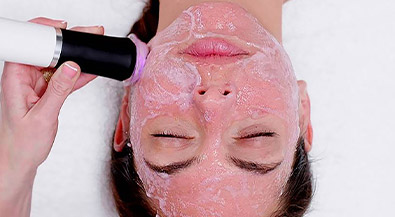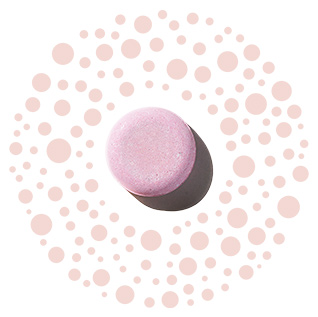 BENEFITS
Reduces wrinkles and fine lines
Increases firmness & elasticity
Prevents premature skin aging
Oxygenation by Bohr effect
Infusion of active ingredients
OxyPodTM technology inside
Reviving serum infusion
BODY TREATMENTS WITH OXYGENEOTM
OxyGeneo™ offers a quick and effective solution for many body impurities, by harnessing the power of oxygen on problem skin areas. It will leave your skin detoxified, refreshed and hydrated from head to toe.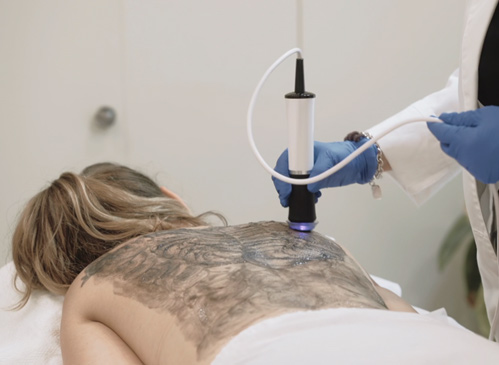 OxygeneoTM is the ultimate skin refresher,
ideal for people who deal with:
Bacne and body pimples
Body pigmentation
Chapped skin
And other annoying conditions
EXPERIENCE GLOWING
SKIN FROM HEAD TO TOE.
REVOLUTIONARY OXYPODTM TECHNOLOGY
Each OxyPod is made of 100% pure active ingredients, in their solid dormant state, without adding any chemicals, dyes, or preservatives.
The dormant ingredients become fully active only when the treatment begins, and that means:
MAXIMUM FRESHNESS • MAXIMUM PERFORMANCE • LONGER-LASTING RESULTS

FREQUENTLY ASKED QUESTIONS
How soon after the OxyGeneo™ treatment will I see results?
You can expect to see visible texture improvement immediately after the 1st treatment. The OxyGeneo™ effect is cumulative, so more treatments will bring better results.
How long the results last?
OxyGeneo™ works with the natural repairing processes of your skin; therefore results are individual and may vary between people. Your lifestyle also affects the ability of your skin to improve itself, so keeping a healthy lifestyle helps to linger the OxyGeneo effect. In any case, the OxyGeneo effect is cumulative, so more treatments will bring longer-lasting results.
How does the OxyGeneo™ treatment feel?
An OxyGeneo™ treatment feels like a warm massage for the face. The exfoliation is described as very refreshing and comfortable and, because there is no harsh vacuum procedure, the treatment is soothing and relaxing. More sensitive skin type clients may have a gentle tingling sensation during the first couple of minutes.
How long is the OxyGeneo™ treatment?
The basic OxyGeneo™ treatment takes about 35-45 minutes. The OxyGeneo™ treatment can be done as a 'stand-alone' facial or in combination with other modalities, which will extend the duration of the overall treatment.
Is there any downtime after OxyGeneo™ treatments?
No, the OxyGeneo™ has zero downtime.
Can I do the OxyGeneo™ treatment if I have an event in the same day?
Absolutely! The OxyGeneo™ treatment has no downtime and the skin looks and feels great right after, so the OxyGeneo™ is an ideal "Red Carpet" treatment. If you have an upcoming event, schedule your OxyGeneo™ treatment on the same day or a day before and everyone will be sure to notice how radiant your skin looks during the event.
How do I know which OxyGeneo™ treatment is best for my skin?
During your first visit, our skin expert will examine your skin and match it with the right OxyGeneo™ treatment that suits your skin's needs.
I have allergies. Is the OxyGeneo™ safe for me?
All OxyGeneo™ treatments are formulated with allergies and sensitivities in mind and shouldn't cause allergic reactions; however any known allergies should be disclosed prior to the first treatment to ensure your safety.
Is the OxyGeneo™ safe for all skin types?
Yes, the OxyGeneo™ is a "color blind" technology that can safely treat all skin types.
MEDIA & ARTICLES
AS SEEN IN THE MEDIA:

Cancellation Policy
Please provide 24 Hrs notice of cancellation for any apointment. Continued cancellations or no shows will result in paying upfront for your next visit or loss of pre-paid treatment will be non-refundable. We reserve the right to charge a fee for any appointments without notice. All pricing before tax.
All gift certificates expire in 1 year from the date of purchase.
Custom Lash & Laser
At Custom Lash & Laser we pride ourselves in knowledge, experience and most of all high-quality products and technique.