Contact Us
"My mission is to help you look and feel your best whether it be enhancing your natural look or providing you with your hair removal needs. Experience relaxing, beautiful and effective treatments at Custom Lash and Laser."
-Ashley
Studio
5985 Ernest Crescent
Niagara Falls, ON L2H 0H8
Ashley has been trained and certified with the very best in eyelash extensions and laser hair removal. Xtreme Lashes and Alma lasers are world renowned, leader in industry standards and absolute luxury in their products and services.
Appointment Request
Please note, below form is not a confirmed appointment. Allow 24hrs for email or text confirmation.
We will get back to you as soon as possible. Thank you for your patience and understanding.
For faster responds time text Ashley at 905 920 7229 for all inquries
Cancellation Policy
Please provide 24 Hrs notice of cancellation for any apointment. Continued cancellations or no shows will result in paying upfront for your next visit or loss of pre-paid treatment will be non-refundable. We reserve the right to charge a fee for any appointments without notice.  
All gift certificates expire in 1 year from the date of purchase.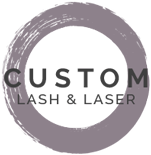 Hours
Monday – Closed
Tuesday – 9:00am – 8:00pm
Wednesday – 9:00am – 5:00pm
Thursday – 9:00am – 8:00pm
Friday 9:00am – 3:00pm
Saturday – Closed
Sunday – Closed